Credit Card Callers
ONLINE READERS
*You must accept our Terms of Use to Proceed with the Psychic Reading.
Home > Angels > Guardian Angel
Guardian Angel
A guardian angel is said to be assigned to protect and guide a certain person or group. There is a belief that guardian angels existed from a long time now since the command of God.

There have been many recorded cases of human interactions with Guardian Angels. Among these are Christian mystics that report their ongoing conversations with the said angels over the years. There are Saint Gemma Galgani and Maria Valtorta who proved to have extensive visions of Jesus and Mary.

Human interactions

A Roman Catholic mystic, Saint Gemma Galgani, said that she had spoken to her guardian angel. Her guardian angel was able to extend his/her knowledge to her in the form that it would greatly guide her in things that she does. Saint Gemma also said that the angel acted as her mentor which stops her in potentially doing negative things. It prohibited her in doing inappropriate actions in times of trouble.

Maria Valtorta, an Italian writer, on the other hand, wrote a book entitled The Book of Azariah. This book was based on the "dictations" that she had from her guardian angel. This guardian angel was said to have a name of Azariah. The book discussed the Roman Missal which was used for Sunday Masses in the years 1946 and 1947. These dictations were recorded every Sunday, given by her guardian angel Azariah every Missal.
Traditional Catholic Prayer for Guardian Angels

Among the Christian prayers, stated below is a traditional prayer to a person's guardian angel.

Angel of God, my guardian dear
To whom God's love commits me here.
Ever this day/night be at my side
To light, to guard, to rule and guide.
Amen.
Literary Works About Guardian Angels
Guardian angels are often depicted to have a personal counterpart which is the demon. These demons attack the efforts of the guardian angel in making the person they are guiding believe in the good side. In medieval dramas, morality was the usual theme. For example, in the 15h century, the drama The Castle of Perseverance, morality was discussed as an issue for people living in the society. It discusses how the good and bad side was able to accomplish its works for a specific person.
Christopher Marlowe's work was one of the most popular plays that were able to impart the idea of having a good and bad angel. Marlowe's work was entitles The Tragical History of Doctor Faustus, made in 1592. In the end, it was the bad angel who won the heart of Doctor Faustus. This cost his his career as well as his life.
Every person has the option to go in the good or bad side. There is a guardian angel protecting and guiding us. It depends on each of us if we would allow them to guide us in the lives ahead of us. Also, people must be able to understand that guardian angels are sent by God. This means that they are our bridge to our almighty God. Listening to what our guardian angels advice us would imply that we are also listening to what God is telling us.
Select Your Country for Credit Card Readings
Clairvoyance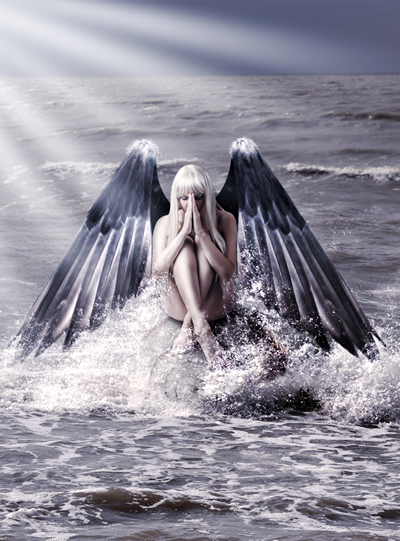 About Clairvoyance.com.au